Executive Development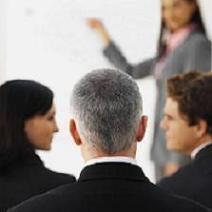 Executive development is primarily provided through a series of regularly scheduled meetings with the consultant, at times which are flexible to a client's hectic and demanding schedule. The consultant is also available by phone and e-mail between meetings.
Executive development begins with a specific commitment to a pre-determined program in the development of core competencies which include communications, resource planning, time management, critical thinking, leadership, executive perspective, strategic thinking, change management, and organizational performance. Within the relationship, the consultant will also review plans, provide counsel, and introduce ideas as appropriate to fit a client's specific needs.
This type of program is based on the notion that all of us, in whatever we do, need the ability to seek out an objective opinion in order to grow our own talents. Just as exercise programs are made stronger with a coach, and academic knowledge grows deeper in tutorials, the role of the consultant is to provide executives with an intelligent mirror to hold up against themselves.
This program has three distinct elements:
1. Executive skills development
2. Professional coaching
3. Personal goals achievement
EXECUTIVE SKILLS CONTENT
The first session will encompass core communication and conflict resolutions skills. Specifically, we will focus on differing perspectives, emotional levers, maintaining a strategic focus, taking ownership for our communications, levels of interaction, pace and frequency management, conflict management, how to always have the perfect response, and communication protocols.
The second session is time management and resource planning which focuses on allowing us to become more effective while maintaining a better life-work balance. Specifically we will focus on effectiveness vs. efficiency, managing strategies and principles, task-time-energy-outcome management, and dashboards with key stakeholders. This will also include personalized time mapping with flexible applications.
The third session is critical thinking focusing on the ability to work both inside and outside the box of traditional thinking to realize that the impossible can be overcome on a daily basis. We will introduce 360 SWOT analysis, environmental change models, relationship paradigms, problem management modeling, and 17 rules for critical thinking aka "how to survive inter-generational interactions".
The fourth session is leadership focusing on the ability to achieve strategic objectives interconnected to tactical outcomes while maximizing resource productivity (human capital, financial capital etc.) Included will be definitions and breakdown of traditional thinking, new perspectives, overcoming limitations and perceptions, relationship paradigm models, understanding stakeholders and interaction methodologies, entrepreneurial decision making, paradox inversions, effective management roles and responsibilities, relationship SWOT analysis.
The fifth session will focus on an Executive perspective including a performance delta, organizational paradigms, information implications, strategy assessment mapping, and process maturity modeling.
The sixth session will include an overview to strategic planning, and create an environmental scan including an analysis of the current marketplace, the envisioned future marketplace, macro-economic factors at play and major risk factors.
The seventh session will develop an understanding of visions and values including the current brand strategy, key differentiators in the marketplace, a vision for the organization going forward, and a set of values in which to operate, current and desired future culture, and how different stakeholders views will vary.
The eight session will focus on developing strategic targets going forward encompassing a broad group of stakeholders, core elements required to meet expectations for success, and the defining of key performance indicators for each core element.
The ninth session will encompass organizational change necessary to achieve the strategic targets including pillars, leverage points, core competencies, structure and organizational targets along with major risk factors.
Session ten will review execution implications including defining the resources required to achieve the previously developed targets at a 30,000 ft. perspective. This will include listing and articulating required implementation considerations such as recruitment, training, process re-engineering, human capital, technology, infrastructure, financial considerations and stakeholder buy-in.
Session eleven will identify key actions and organizational considerations with attendant ownership, resource requirements, execution implications and timelines at a 10,000 ft. level.
Session twelve will encompass a complete review of the program along with personal and professional feedback.
...